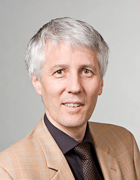 Prof. Dr.-Ing. Alois Knoll
Academic Career and Research Areas
Prof. Alois C. Knoll is a German computer scientist and has been a full professor at the Faculty of Computer Science at the Technical University of Munich since 2001. He teaches and conducts research in the fields of autonomous systems, robotics and artificial intelligence.
He received his (M.Sc.) degree in Electrical/Communications Engineering from the University of Stuttgart, Germany in 1985 and his Ph.D. (summa cum laude) in computer science from the Technical University of Berlin, Germany in 1988. He served on the faculty of the Computer Science Department of TU Berlin until 1993, when he qualified for teaching computer science at a university (habilitation). He then joined the Technical Faculty of the University of Bielefeld, where he was a full professor and the director of the research group Technical Informatics until 2001. Between 2001 and 2004, he was a member of the board of directors of Fraunhofer-Society's Institute for Autonomous Intelligent Systems and head of one of the robotics research departments of that institute. Between 2007 and 2009, he was a member of the EU's highest advisory board for information technology ISTAG. He was involved in the development of the EU flagship projects, and was one of the authors of the report "European Challenges and Flagships 2020 and Beyond". In 2009, he co-founded "fortiss", the Munich Institute for Software and Systems, which, due to its success, has since been transformed into a state institute of the State of Bavaria. He coordinated the EU project ECHORD++, a major initiative with the aim of bringing new robot technology to market maturity. Since 2013, he has been head of the sub-project "Neurorobotics" of the Human Brain Project. Since 2015, he has been director of software development, i.e., one of three scientific directors of the HBP. He is a senior member of the IEEE, a member of the German Society of Informatics and a Fellow of the School of Engineering of the University of Tokyo (2010).
Panin G, Knoll A: "Mutual information-based 3d object tracking". International Journal of Computer Vision. 2008; 78(1):107-118.
Abstract
Kuhn K, Knoll A: "Informatics and medicine - from molecules to populations". Methods Inf Med. 2008; 47(4): 283-295.
Abstract
Mayer H, Nagy I., Knoll A, Braun EU, Bauernschmitt R: "Adaptive control for human-robot skill transfer: Trajectory planning based on fluid dynamics". In: Proceedings of the IEEE International Conference on Robotics and Automation. 2007; 1800-1807.
Abstract
Knoll A, Christaller T: "Robotik". In: Reihe Fischer Kompakt. Frankfurt(Main): Fischer-Verlag, 2003.
Abstract
Knoll A: "Distributed contract networks of sensor agents with adaptive reconfiguration - modelling, simulation, implementation". Journal of the Franklin Institute, Elsevier Science. 2001; 338(6):669-705.
Abstract