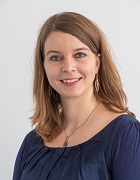 Prof. Dr. Susanne Kossatz
Academic Career and Research Areas
Prof. Kossatz's research interests involve the development and clinical translation of molecular imaging tools for improved tumor detection, intraoperative delineation, treatment and monitoring with the long-term goal to improve outcome and survival for patients. Her research involves investigating fluorescent and nuclear imaging probes for their suitability in molecular imaging applications, their preclinical validation and clinical translation.
Prof. Kossatz studied Biology at the Friedrich Schiller University Jena from where she also obtained her PhD in Molecular Imaging in 2013. For her postdoctoral studies, she joined Memorial Sloan Kettering Cancer Center in New York from 2014 and 2019. There, her research focused on preclinical evaluation and clinical translation of fluorescently and radioactively labeled PARP inhibitors. Since April 2019, Prof. Kossatz heads the research group "Imaging and Biomarkers in Oncology" as a Rudolf Mößbauer Tenure Track Assistant Professor in the Department of Nuclear medicine at MRI-TUM.
Awards
Alavi-Mandell Publication Award of the Society of Nuclear Medicine and Molecular Imaging (2019)
Poster Award at the European Molecular Imaging Meeting (EMIM), Cologne, Germany (2017)
Young Investigator Award, SNMMI Meeting, Baltimore, MD, USA (2015)
Research Fellowship from the German Research Foundation (DFG) (2014)
Young Investigator Award, German Radiology Conference (2011)
Kossatz S, Pirovano G, Franca PD, Strome AL, Sunny SP, Zanoni DK, Mauguen A, Carney B, Brand C, Shah V, Ramanajinappa RD, Hedne N, Birur P, Sihag S, Ghossein RA, Gonen M, Strome M, Suresh, A, Molena D, Kuriakose MA, Patel SG, Reiner T. "PARP1 as a biomarker for early detection and intraoperative tumor delineation in epithelial cancers–first-in-human results". bioRxiv. 2019; 663385.
Abstract
Kossatz S, Carney B, Farley C, Drain CM, Weber WA, Reiner T. "Direct imaging of drug distribution and target engagement of the PARP inhibitor rucaparib". Journal of Nuclear Medicine. 2018; 59 (8), 1316-1320.
Abstract
Kossatz S, Carney B, Schweitzer ME, Carlucci G, Miloushev V, Maachani UB, Rajappa P, Keshari KR, Pisapia D, Weber WA, Souweidane MM, Reiner T. "Biomarker based PET Imaging of Diffuse Intrinsic Pontine Glioma in Mouse Models". Cancer Research. 2017; 77 (8): 2112-2123.
Abstract
Kossatz S, Brand C, Gutiontov S, Liu JTC, Lee N, Gonen M, Weber WA, Reiner T. "Detection and delineation of oral cancer with a PARP1 targeted optical imaging agent." Nature Scientific Reports: 2016, 21371.
Abstract
Kossatz S, Béhé M, Mansi R, Saur D, Czerney P, Kaiser WA, Hilger I. "Multifactorial diagnostic imaging of CCK2R expressing tumors". Biomaterials. 2013; 34 (21): 5172–5180.
Abstract