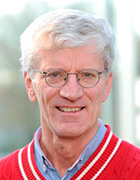 Academic Career and Research Areas
Professor Kulozik (b. 1955) conducts research in the field of food and bioprocess technology, with a particular focus on the structure formation of biopolymers, membrane separation technology, protein technology and bioprocess engineering. The aim of his research is to shed light on the complex interactions between components in foodstuffs and process-related operations, and to utilize this knowledge in order to make predictions about their behavior in real-life procedures.
Professor Kulozik studied food technology at TUM, and went on to obtain both his doctorate and his postdoctoral teaching qualification from TUM in 1986 and 1991, respectively. From 1984 to 1999, he worked (inter alia) in the food industry as Department Manager for Process & Product Development and Strategic Technology Researcher at Kraft Foods Europe (R&D), Munich. During this period, he also held a lectureship in biotechnology at TUM. In 2000 he was appointed to the Chair of Food Processing Engineering and Dairy Technology (as it was then called), as successor to Professor Heinz Gerhard Kessler. He turned down the offer of a position at the University of Hohenheim, Stuttgart, in 1998 in favor of TUM. He has published a total of around 270 academic works.
Awards
Fellow of the IAFST (International Academy of Food Science & Technology, since 2014)
German Dairy Association (MIV) Innovation Award (2015)
"Bund der Freunde der TUM" (Friends of TUM) outstanding dissertation award (1986)
Kulozik UM: "Structuring Dairy Products by Means of Processing and Matrix Design". In: Food Materials Science – Principles and Practice. Editor: Aguilera JM, Lillford PJ. New York: Springer Science and Business Media, 2008
Abstract
Kulozik UM: "Verfahrenstechnik kontinuierlicher Fermentationen – dargestellt am Beispiel der Milchsäure- und Biomassegewinnung im Rohrfermenter". Düsseldorf: Verlag des Vereins deutscher Ingenieure (VDI), 1992.
Abstract
Kulozik UM: "Einflüsse auf die Permeation von Wasser und gelösten Stoffen sowie auf den Deckschichtabtrag bei der Umkehrosmose". Düsseldorf: Verlag des Vereins deutscher Ingenieure (VDI), 1986.
Abstract