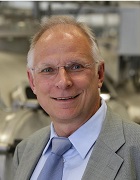 Prof. Dr. Horst-Christian Langowski
Academic Career and Research Areas
Prof. Langowski (*1954) works in the field of packaging technology for food, as well as for technical and pharmaceutical products, with a particular focus on plastic materials with special functions and their interactions with packaged products. He also works in the field of digitalization in the field of filling and packaging systems.
Following his physics studies, Prof. Langowski went to work in industry in 1981 (developing optical data storage media). He combined work with study and obtained his doctorate in 1989 at the University of Hanover. In 1991, he joined what is now the Fraunhofer Institute for Process Engineering and Packaging. He now acts as the Institute's Director on a part-time basis. In 2003, he was offered the Chair of Food Packaging Technology at TUM and since 2006 he has been Dean of Studies for Brewing and Food Technology. Since 2017, he has served as chairperson of the Fraunhofer Group for Life Sciences and a member of the executive committee of the Fraunhofer-Gesellschaft. He is Editor-in-Chief of the magazine "Food Packaging and Shelf Life".
Sängerlaub S, Miesbauer O, Michael L, Müller K, Stramm C, Pecyna M, Langowski H-C: "Humidity regulation by stretched PP and PLA films with dispersed CaCl2". Journal of Applied Polymer Science. 2018. 135(3): 45713.
Abstract
Langowski H-C: "Shelf Life of Packed Food and Packaging Functionality". In: Food Packaging Materials. Testing & Quality Assurance. Editors: Singh P, et al. Boca Raton, USA: CRC Press, 2017: 11-66.
Abstract
Jost V, Langowski H-C: "Effect of different plasticisers on the mechanical and barrier properties of extruded cast PHBV films". European Polymer Journal. 2015; 68: 302-312.
Abstract
Müller K, Schönweitz C, Langowski H-C: "Thin laminate films for barrier packaging application - influence of down gauging and substrate surface properties on the permeation properties". Packaging Technology and Science. 2012; 25(3): 137-148.
Abstract
Langowski HC: "Permeation of gases and condensable substances through monolayer and multilayer structures". In: Plastic Packaging – Interactions with Food and Pharmaceuticals. Editor: Baner AL, Piringer O 2008; S. 297-347.
Abstract