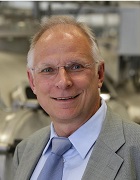 Prof. Dr. Horst-Christian Langowski
Academic Career and Research Areas
Prof. Dr. Horst-Christian Langowski (*1954) works in the field of packaging technology for food as well as for technical and pharmaceutical products, especially with plastic materials with special functions and their interactions with packaged products. Furthermore, he deals with the recycling of plastic packaging and the reuse of recycled materials in food packaging.
After studying physics at the University of Hanover, he took up an industrial position in 1981 to develop optical data carriers and, in parallel, completed his doctorate at the University of Hanover in 1989. He moved to the present Fraunhofer Institute for Process Engineering and Packaging in 1991, which he directed from 2004 to 2020. Between 2017 and 2020, he was also chairman of the Fraunhofer Group for Life Sciences and a member of the Presidential Board of the Fraunhofer-Gesellschaft. From 2003 to 2020, he chaired the Chair of Food Packaging Technology at TUM and also served as Dean of Studies for Brewing and Food Technology between 2006 and 2019.
He continues to be member of the Editorial Board of the journal "Food Packaging and Shelf Life", Chairman of the Verband Weihenstephaner Milchwirtschaftler, Bio- und Lebensmitteltechnologen e.V. and board member of the Zentrum für Lebensmittel- und Verpackungstechnologie e.V..
Langowski, Horst-Christian: Chapter 2: Shelf Life of Packed Food and Packaging Functionality. In: Singh, Preeti, Wani, Ali Abas, Langowski, Horst-Christian (Ed.): Food Packaging Materials. Testing & Quality Assurance. Boca Raton, Fla.: CRC Press, 2017, pp. 11-66.
Abstract
Kiese, S., Kücükpinar, E., Reinelt, M., Miesbauer, O., Ewender, J., & Langowski, H. C. (2017). A systematic approach for the accurate and rapid measurement of water vapor transmission through ultra-high barrier films. Review of Scientific Instruments, 88(2), 025108.
Abstract
Kiese, S., Kücükpinar, E., Miesbauer, O., & Langowski, H. C. (2019). Time-dependent water vapor permeation through multilayer barrier films: Empirical versus theoretical results. Thin Solid Films, 672, 199-205.
Abstract
Franke, C., Hilgarth, M., Vogel, R. F., Petermeier, H., & Langowski, H. C. (2019). Characterization of the dynamics of volatile organic compounds released by lactic acid bacteria on modified atmosphere packed beef by PTR-MS. Food Packaging and Shelf Life, 22, 100400.
Dold, J., Kehr, C., Hollmann, C., & Langowski, H. C. (2022). Non-Destructive Measuring Systems for the Evaluation of High Oxygen Stored Poultry: Development of Headspace Gas Composition, Sensory and Microbiological Spoilage. Foods, 11(4), 592.
Abstract