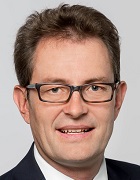 Prof. Dr. Christoph Lütge
Academic Career and Research Areas
Christoph Lütge studied business informatics and philosophy. He took his PhD at TU Braunschweig in 1999 and his habilitation at LMU Munich in 2005. He was awarded a Heisenberg Fellowship in 2007. Since 2010, he holds the Chair in Business Ethics at TUM, and since 2019, he is also the Director of the TUM Institute for Ethics in AI.

Most recent books: "An Introduction to Ethics in Robotics and AI" (Springer, 2020, with coauthors) and "Business Ethics: an Economically Informed Perspective" (Oxford University Press, 2021, with M. Uhl). In 2020, Lütge was appointed Distinguished Visiting Professor of Tokyo University. He has also held visiting positions at Harvard, Pittsburgh, Taipei, Kyoto and Venice. He is a member of the Scientific Board of the European AI Ethics initiative AI4People as well as of the German Ethics Commission on Automated and Connected Driving.
Lütge C, Uhl M: Business Ethics: An Economically Informed Perspective. Oxford University Press, 2021.
Abstract
Lütge C, Armbrüster T, Müller J: "Order Ethics: Bridging the Gap between Contractarianism and Business Ethics". Journal of Business Ethics. 2016; 136(4): 687-697.
Abstract
Jauernig J, Uhl M, Lütge C: "Competition-Induced Punishment of Winners and Losers: Who is the Target?". Journal of Economic Psychology. 2016; 57(C): 13-25.
Abstract
Lütge C: Ethik des Wettbewerbs: Über Konkurrenz und Moral. München: Beck, 2014.
Abstract
Lütge C, Rusch H: "The Systematic Place of Morals in Markets: Comment on Armin Falk & Nora Szech 'Morals and Markets'". Science. 2013; 341(6147): 714.
Abstract