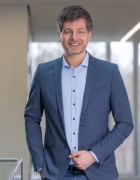 Academic Career and Research Areas
Prof. Dr. Martin Meißner's (*1979) research focuses on social media and digitization as well as consumer decision-making processes applying eyetracking and augmented and virtual reality. In the context of social media, he particularly investigates influencer marketing. He uses eyetracking to understand decision-making processes in detail. His research has been published in internationally renowned journals such as the Journal of Marketing Research and Information Systems Research.
Martin Meißner studied Business Administration at the Faculty of Business Administration and Economics at Bielefeld University. After a research stay at Monash University in Australia, he was Associate Professor at the University of Southern Denmark from 2013 to 2019. In 2020, he accepted the position as Professor of Marketing at Zeppelin University. Since 2022, Martin Meißner has been Professor of Digital Marketing at the TUM School of Management at the Heilbronn Campus.
Awards
Best Paper of the Year Award of the Journal Information Systems Research
Research grant and scholarship, German Research Foundation (DFG)
Dissertation Award – Westfälisch-Lippische Universitätsgesellschaft
Finalist of DMV (Deutscher Marketing Verband)'s dissertation award
Special award of the Professional Association of German Market and Social Researchers (BVM)
Pfeiffer, J., T. Pfeiffer, M. Meißner, E. Weiß (2020). Eye-Tracking-Based Classification of Information Search Behavior Using Machine Learning: Evidence from Experiments in Physical Shops and Virtual Reality Shopping Environments. Information Systems Research, 31(3), 675-691.
Abstract
Peukert, C., J. Pfeiffer, M. Meißner, T. Pfeiffer, C. Weinhardt (2020). Shopping in Virtual Reality Stores: The Influence of Immersion on System Adoption. Journal of Management Information Systems, 36(3), 1-34.
Abstract
Meißner, M., J. Oll (2019). The Promise of Eye-Tracking Methodology in Organizational Research: Best Practice Recommendations and Future Avenues. Organizational Research Methods, 22(2), 590-617.
Abstract
Meißner, M., A. Musalem, J. Huber (2016). Eye-Tracking Reveals a Process of Conjoint Choice that is Quick, Efficient and Largely Free from Contextual Biases. Journal of Marketing Research, 53(1), 1-17.
Abstract
Scholz, S. W., M. Meißner, R. Decker (2010). Measuring Consumer Preferences for Complex Products: A Compositional Approach Based on Paired Comparisons. Journal of Marketing Research, 47(4), 685-698.
Abstract