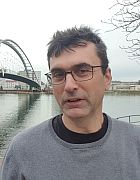 Prof. Dr.-Ing. Martin Mensinger
Academic Career and Research Areas
Prof. Mensinger (*1967) deals with issues of steel, light metal and composite construction. His research focuses on steel and composite bridge construction, the assessment of historical steel structures and the fire protection of steel and composite structures. There he was able to make significant scientific contributions with his research on the membrane effect of composite corners in case of fire, the development of a natural fire curve for fires in cavities of suspended ceilings and raised floors, as well as on the influence of hot-dip galvanizing on the heating behavior of steel components. Mensinger has been and continues to be involved in the development of new innovative construction methods. In bridge construction, examples include the VTF-Rail construction method and the Greißelbach pilot bridge; in building construction, the development of the sustainable Top-Floor-Integral floor system or the development of new types of ultra-high load-bearing composite columns (bar-bundle columns, plate-lamella columns). Other research areas include historic steel structures, additive manufacturing of metal components using SLM, and the use of artificial intelligence (AI) during the design phase of structural engineering structures, which he first applied in the development of Sustainable Office Designer, a SketchUp plug-in for generating sustainable structural systems for composite office buildings.
After studying civil engineering at the Technical University of Karlsruhe and working as a structural engineer at Phillip Holzmann AG, Neu-Isenburg, Prof. Mensinger completed his doctorate under Prof. Bode at the University of Kaiserlautern on fatigue problems in composite bridge construction. He also worked as a structural engineer in plant and power plant construction at Voss u. Kamb Partner GmbH in Kaiserlautern. In 2001, he moved to H. Wetter AG in Switzerland as a member of the management. From 2003, he also worked as a lecturer and as head of the Institute for Civil Engineering at the Lucerne University of Applied Sciences and Arts. In 2006, he followed the call to the chair for metal construction at the TUM. He is a test expert and test engineer for metal construction, a partner at Mensinger Stadler Ingenieure and is heavily involved in standardization on a voluntary basis and on the board of the Association of Test Engineers in the Federal Railway Sector.
Awards
Innovation Prize for Hot-Dip Galvanizing (2018)
Europäischer Stahlbaupreis (2007)
Prix Acier (2005 / 2007)
Koh SK, Mensinger M, Meyer P, Schaumann, P: "Ermittlung einer Naturbrandkurve für Brände in abgehängten Decken und Systemböden sowie Überprüfung des Einflusses fehlender Abschottungen bei Einbauten in Decken und Systemböden". Bautechnik. (to be published)
Abstract
Mensinger M, Gaigl : "Feuerwiderstand verzinkter Stahlkonstruktionen - R30 – ungeschützt". Stahlbau. 2019; 88(1): 3-10.
Abstract
Mensinger M, Fontana M, Frangi A: "Entwicklung eines multifunktionalen Deckensystems mit erhöhter Ressourceneffizienz". Stahlbau. 2010; 79(4): 282-297.
Abstract
Zinke T, Diel R, Mensinger M, Ummenhofer T: "Nachhaltigkeitsbewertung von Brückenbauwerken". Stahlbau. 2010; 79(6): 448-455.
Abstract
Mensinger M, Schwindl K: "Gelenkige Sekundärträgeranschlüsse mit langen Fahnenblechen im Verbundbau". Bauingenieur.2010; 85(10): 421-433.
Abstract