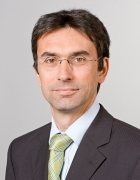 Prof. Dr.-Ing. Martin Mensinger
Academic Career and Research Areas
Prof. Mensinger (*1967) studies the fire and fatigue behavior and stability of steel and aluminum structures, bridge construction, historical steel structures, as well as the sustainable use of metallic materials.
Martin Mensinger studied at the Technical University of Karlsruhe and received his doctorate under Prof. Bode at the University of Kaiserslautern on problems of fatigue in composite bridge construction. He worked as a structural engineer at Phillip Holzmann AG and in plant and power station construction at Voss u. Kamb & Partner GmbH. In 2001, he became a member of the Executive Board of H. Wetter AG in Switzerland. In 2003, he served as lecturer and head of the Institute of Civil Engineering at the HTA Lucerne. In 2006, he was appointed to the Chair of Metal Structues at TUM. He is a registered inspector and testing engineer for metal structures in the field of construction supervision and in the field of federal railways. In addition, he is head of the project team for the revision of DIN EN 1994-2, member of the advisory board of the bridge construction exhibition of the Deutsches Museum, member of the board of the association of experts for structural engineering proofs in railway construction e.V. and partner in the engineering office Mensinger Stadler Ingenieure, Munich.
Awards
Innovation Prize for Hot-Dip Galvanizing (2018)
Europäischer Stahlbaupreis (2007)
Prix Acier (2005 / 2007)
Koh SK, Mensinger M, Meyer P, Schaumann, P: "Ermittlung einer Naturbrandkurve für Brände in abgehängten Decken und Systemböden sowie Überprüfung des Einflusses fehlender Abschottungen bei Einbauten in Decken und Systemböden". Bautechnik. (to be published)
Mensinger M, Gaigl : "Feuerwiderstand verzinkter Stahlkonstruktionen - R30 – ungeschützt". Stahlbau. 2019; 88(1): 3-10.
Abstract v
Mensinger M, Fontana M, Frangi A: "Entwicklung eines multifunktionalen Deckensystems mit erhöhter Ressourceneffizienz". Stahlbau. 2010; 79(4): 282-297.
Abstract
Zinke T, Diel R, Mensinger M, Ummenhofer T: "Nachhaltigkeitsbewertung von Brückenbauwerken". Stahlbau. 2010; 79(6): 448-455.
Abstract
Mensinger M, Schwindl K: "Gelenkige Sekundärträgeranschlüsse mit langen Fahnenblechen im Verbundbau". Bauingenieur.2010; 85(10): 421-433.
Abstract