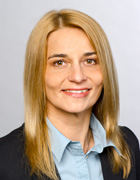 Prof. Dr. Mirjana Minceva
Academic Career and Research Areas
The research of Professor Minceva (b. 1973) focuses on the development of efficient separation processes in the downstream processing of biomolecules and in their integration with the upstream processing steps, in particular bioreactors. The research methodology involves model-based process design for the path "from molecule to process" and bridges the gap between molecular understanding and process implementation. The concept is general and hence applicable to diverse bioproducts of industrial relevance.

Professor Minceva studied food science and biotechnology (BSc) and process engineering (MSc) at the University Ss. Ciryl and Methodius, Macedonia. In 2004 she completed her PhD at the University of Porto, Portugal (Prof. Rodrigues). Subsequently she worked as an associate scientist in the same group and after that as NATO postdoctoral fellow in Macedonia. Between 2007 and 2014 she led the chromatography group at the Chair of Separation Science and Technology (Prof. Arlt) at the University of Erlangen-Nuremberg, where she acquired her postdoctoral teaching qualification (habilitation) in 2013. She has been an assistant professor at TUM since July 2014.
Awards
NATO Reintegration Grant (2006-2007)
Post-Doc. Fellowship - Fundação para a Ciência e Tecnologia (FTC), Portugal (2004-2006)
Solvay Ideas Challenge Prize (2004)
PhD Fellowship - Fundação para a Ciência e Tecnologia (FCT), Portugal (1999-2003)
TEMPUS Mobility Grant (1998)
Key Publications
Hopmann E, Goll J, Minceva M: "Sequential centrifugal partition chromatography: a new continuous chromatographic technology". Chemical Engineering & Technology. 2012; 35(1): 72-82.
Abstract
Hopmann E, Arlt W, Minceva M: "Solvent system selection in counter-current chromatography using conductor-like screening model for real solvents". Journal of Chromatography A. 2011; 1218(2): 242–250.
Abstract
Minceva M, Sá Gomes P, Meshko V, Rodrigues AE: "Simulated moving bed reactor for isomerization and separation of p-xylene". Chemical Engineering Journal. 2008; 140(1-3): 305-323.
Abstract
Zabka M, Minceva M, Rodrigues AE: "Experimental and modeling study of adsorption in Preparative Monolithic Silica Column". Chemical Engineering and Processing. 2006; 45(2): 150-160.
Abstract
Minceva M, Rodrigues A: "Modeling and Simulation of Simulated Moving bed for separation of p-xylene". Industrial & Engineering Chemistry Research. 2002; 41: 3454-3461.
Abstract