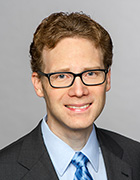 Academic Career and Research Areas
Rolf Moeckel focuses on the development and application of transportation and land-use models. Such models are used to assess the impact of infrastructure investments and planning policies before they are implemented in reality. Dr. Moeckel has implemented an agent-based integrated land use/transport model for the Munich Metropolitan Area. The disaggregate model covers household relocation, demographic transition, person travel demand, freight travel and environmental impacts.
From 1996 to 2002, Dr. Moeckel studied spatial planning at the Technical University Dortmund and the University of Washington in Seattle. In 2006, he completed his doctorate at the Technical University Dortmund in land use modeling. He spent six years with the consulting firm Parsons Brinckerhoff in New York, NY and Albuquerque, NM as a principal professional associate. From 2013 to 2015, Dr. Moeckel conducted his postdoctoral research at the National Center for Smart Growth at the University of Maryland. In 2015, he joined TUM as a Rudolf Mößbauer Professor for transport modeling and travel behavior research
Awards
Scholarship for the TRB Chan Wui & Yunyin Rising Star Workshop during a transatlantic crossing on the Queen Mary 2 (2016)
Doctoral Prize, TU Dortmund University (2007)
CUPUM '05 Prize Paper (2005)
Scholarship of the Westphalia Foundation (2004)
Fulbright Scholarship (2000)
Moeckel, Rolf; Kuehnel, Nico; Llorca, Carlos; Moreno, Ana Tsui and Rayaprolu, Hema: "Agent-based Simulation to Improve Policy Sensitivity of Trip-Based Models". Journal of Advanced Transportation. 2020; Article ID 1902162.
Abstract
Kuehnel, Nico; Ziemke, Dominik; Moeckel, Rolf and Nagel, Kai: "The end of travel time matrices: Individual travel times in integrated land use/transport models". Journal of Transport Geography. October 2020; 88: 102862.
Abstract
Zhang, Shihang; Moeckel, Rolf; Moreno, Ana Tsui; Shuai, Bin and Gao, Jie: "A work-life conflict perspective on telework". Transportation Research Part A: Policy and Practice 141. 2020; 51-68.
Abstract
Moeckel R: "Constraints in household relocation: Modeling land-use/transport interactions that respect time and monetary budgets". The Journal of Transport and Land Use. 2017; 10 (2): 1-18.
Abstract
Dawkins C, Moeckel R: "Transit-Induced Gentrification: Who Will Stay, and Who Will Go?" Housing Policy Debate. 2016; 26 (4-5): 801-818.
Abstract