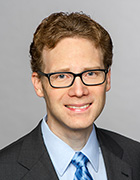 Academic Career and Research Areas
Rolf Moeckel focuses on the development and application of transportation and land-use models. Such models are used to assess the impact of infrastructure investments and planning policies before they are implemented. Moeckel has authored three different land use models, ranging from highly aggregate to microscopic approaches. Furthermore, he has designed and implemented numerous person travel and freight models.
From 1996 to 2002, Moeckel studied spatial planning at TU Dortmund University and the University of Washington in Seattle. In 2006, he completed his doctorate at TU Dortmund University in land use modeling. He spent six years with the consulting firm Parsons Brinckerhoff in New York, NY and Albuquerque, NM as a principal professional associate. From 2013 to 2015, Moeckel conducted his postdoctoral research at the National Center for Smart Growth at the University of Maryland. In 2015, he joined TUM as a Rudolf Mößbauer Professor in spatial modeling.
Awards
Doctoral Prize, TU Dortmund University (2007)
WCTRS Certificate of Honorable Mention: 2nd best paper of young authors under 35 at the 11th World Conference on Transport Research in Berkeley, CA (2007)
CUPUM '05 Prize Paper (2005)
Scholarship of the Westphalia Foundation (2004)
Fulbright Scholarship (2000)
Key Publications
Moeckel R: "Constraints in household relocation: Modeling land-use/transport interactions that respect time and monetary budgets". The Journal of Transport and Land Use. 2017; 10(2): 1-18.
Abstract
Moeckel R, Donnelly R: "A model for national freight flows, distribution centers, empty trucks and urban truck movements". Transportation Planning and Technology. 2016; 39(7): 693-711.
Abstract
Dawkins C, Moeckel R: "Transit-Induced Gentrification: Who Will Stay, and Who Will Go?" Housing Policy Debate. 2016; 26(4-5): 801-818.
Abstract
Moeckel R, Donnelly R: "Gradual rasterization: redefining spatial resolution in transport modeling". Environment and Planning B: Planning and Design. 2015; doi:10.1068/b130199p.
Abstract
Moeckel R, Fussel R, Donnelly R: "Mode choice modeling for long-distance travel". Transportation Letters. 2015; 7(1): 35-46.
Abstract
print view