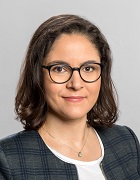 Prof. Dr. Berna Özkale Edelmann
Academic Career and Research Areas
Berna Özkale Edelmann's research focuses on developing nanorobotic tools to decipher signaling processes between mammalian cells and their microenvironment. In particular, her research utilizes nanotechnology, smart biomaterials, microfluidics, and single cell manipulation technology to engineer multifunctional microdevices designed for regenerative medicine.
Özkale Edelmann received her Bachelor's degree in Chemical Engineering at Istanbul Technical University (2009) and her Master's degree in Biomedical Engineering at ETH Zurich (2011). She earned her Ph. D. in Mechanical Engineering at ETH Zurich in the Multi Scale Robotics Lab (2016). In 2017, she joined the Mooney lab in Harvard University to conduct her postdoctoral research. Since 2021, Özkale Edelmann is at TUM where she was appointed to the professorship for Nano- and Microrobotics at the Electrical and Computer Engineering Department.
Özkale B, Sakar MS, Mooney DJ: "Active biomaterials for mechanotransduction". Biomaterials. 2021; 267: 120497.
Abstract
Özkale B, Parreira R, Bekdemir A, Pancaldi L, Özelci E, Amadio C, Kaynak M, Stellacci F, Mooney DJ, Sakar MS: "Modular soft robotic microdevices for dexterous biomanipulation". Lab on a Chip. 2019; 19: 778-788.
Abstract
Mao S, Özkale B, Shah NJ, Vining K, Descombes T, Zhang L, Tringides CM, Wong S, Shin J, Scadden DT, Weitz DA, Mooney DJ: "Programmable microencapsulation for enhanced mesenchymal stem cell persistence and immunomodulation". Proceedings of the National Academy of Sciences. 2019; 116 (31): 15392-15397.
Abstract
Özkale B, Shamsudhin N, Bugmann T, Nelson BJ, Pané S: "Magnetostriction in electroplated FeCo alloys," Electrochemistry Communications. 2017; 76: 15-19.
Abstract
Özkale B, Shamsudhin N, Chatzipirpiridis G, Hoop M, Gramm F, Chen X, Martí X, Sort J, Pellicer E, Pané S: "Multisegmented FeCo/Cu nanowires: electrosynthesis, characterization and magnetic control of biomolecule desorption". Applied Materials and Interfaces. 2015; 7(13): 7389-7396.
Abstract