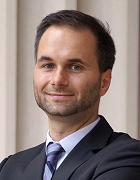 Prof. Dr. Sebastian Pfotenhauer
Academic Career and Research Areas
Sebastian Pfotenhauer is Co-Director of the Munich Center for Technology in Society (MCTS) and Carl von Linde Professor of Innovation Research. As an expert in the fields of science and technology studies (STS) and innovation policy, he heads the Innovation, Society and Public Policy research group at MCTS and the School of Management. He is the coordinator of the Munich Cluster on the Future of Mobility in Metropolitan Regions (M Cube), which was awarded a 45MEUR initiative by the Federal Ministry of Education and Research (BMBF) as part of the Future Cluster Competition. He also coordinates the EU-Horizon2020 project SCALINGS - a 4MEUR initiative to study co-creation in robotics, autonomous driving and energy systems - and project leader of several DFG projects (e.g. Regional Cultures of Innovation, Technoscientific Constitutionalism, and METAFORIS).
Professor Pfotenhauer's research focuses on regional innovation cultures and strategies, the social, ethical and political dimensions of science and innovation, responsible and co-creative innovation approaches, and the governance of science and emerging technologies in international contexts, among others. Before joining TUM, Professor Pfotenhauer was a Research Scientist and Lecturer at the MIT Technology and Policy Program and a Fellow at the Harvard STS Program. He works as a consultant for various governments and international organisations (e.g. the OECD). His work has appeared in Research Policy, Social Studies of Science, the OECD STI Outlook, Nature, and Issues in Science and Technology, among others. Sebastian holds a Master's degree in Technology Policy from MIT and a PhD in Physics from the University of Jena, and received extensive post-doctoral training at MIT and Harvard.
Awards
Leading Technology Policy Fellowship (MIT), MIT Technology & Policy Program (2010-2013)
Dissertation with distinction ("Summa Cum Laude") (2009)
MIT Education Excellence Award for graduation with 5.0 GPA (2010)
ERP Fellowship, German Federal Ministry for Economic Affairs and Energy / German National Academic Foundation (2008-2010)
Undergraduate fellowship, Evangelisches Studienwerk Villigst ("Academic Foundation of the Protestant Churches"), (2000-2005)
Pfotenhauer SM, Laurent B, Papageorgiou K, Stilgoe J: "Can it scale? Coming to terms with the politics of scaling". Social Studies of Science. 2021.
Abstract
Pfotenhauer S, Frahm N, Winickoff D, Benrimoh D, Illes J, Marchant G: "Mobilizing the private sector for responsible innovation in neurotechnology (and beyond)". Nature Biotechnology. 2021.
Abstract
Engels F, Wentland A, Pfotenhauer SM: "Testing future societies? Developing a framework for test beds and living labs as instruments of innovation governance". Research Policy. 2019; 48(9): 103826.
Abstract
Pfotenhauer SM, Juhl J, Aarden E: "Challenging the 'deficit model' of innovation: Framing policy issues under the innovation imperative". Research Policy. 2018; forthcoming
Abstract
Pfotenhauer SM, Jasanoff S: "Panacea or diagnosis? Imaginaries of innovation and the 'MIT model' in three political cultures". Social Studies of Science. 2017; 47(6): 783-810.
Abstract