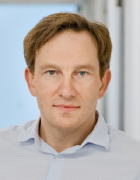 Academic Career and Research Areas
Prof Rad investigates the molecular basis of cancer evolution to advance understanding of processes such as malignant transformation, metastasis, or drug resistance. His interdisciplinary team works at the interface of structural and functional genomics, computational biology, and translational medicine. A focus is the development of genetic technologies and disease models enabling large-scale perturbation of complex biological systems. The overarching goal of his works is to harness basic research discoveries for cancer therapy.
Prof. Rad studied medicine in Budapest, Dresden and Munich and earned his doctorate at TUM. He trained clinically in internal medicine at TUM University Hospital and conducted his postdoctoral research at the Wellcome Sanger Institute in Cambridge. As of 2012, he held a professorship in translational oncology at TUM and led a research group at the German Cancer Research Center, Heidelberg. In 2019 he was appointed to his current chair and is director of the Institute of Molecular Oncology and Functional Genomics at TUM.
Awards
German Cancer Award (2019)
ERC Consolidator Grant (2018)
Emil Salzer Award for Cancer Research (2014)
Rising Star Award of the European Gastroenterology Association (2014)
Griger J, Widholz SA, Jesinghaus M, de Andrade Krätzig N, Lange S, Engleitner T, Montero JJ, Zhigalova E, Öllinger R, Suresh V, Winkler W, Lier S, Baranov O, Trozzo R, Ben Khaled N, Chakraborty S, Yu J, Konukiewitz B, Steiger K, Pfarr N, Rajput A, Sailer D, Keller G, Schirmacher P, Röcken C, Fagerstedt KW, Mayerle J, Schmidt-Supprian M, Schneider G, Weichert W, Calado DP, Sommermann T, Klöppel G, Rajewsky K, Saur D, Rad R. "An integrated cellular and molecular model of gastric neuroendocrine cancer evolution highlights therapeutic targets". Cancer Cell. 2023 Jul 10;41(7):1327-1344.e10.
Abstract
Mueller, S., Engleitner, T., Maresch, M., Zukowska, M., Lange, S., Kaltenbacher, T., Konukiewitz, B., Öllinger, R., Zwiebel, M., Strong, A., Yen H.Y., Banerjee, R., Louzada, S., Fu, B., Seidler, B., Götzfried, J., Schuck, K., Hassan, Z., Schönhuber, N., Klein, S., Veltkamp, C., Friedrich, M., Rad, L., Barenboim, M., Ziegenhain, C., Hess, J., Dovey, O., Eser, S., Parekh, S., Constantino-Casas, F., de la Rosa, F., Cadiñanos, F., Sierra, M., Fraga, M., Klöppel, G., Liu, P., Vassiliou, G., Schmid, R., Weichert, W., Steiger, K., Enard, W., Yang, F., Unger, F., Schneider, F., Varela, I., Bradley, A., Saur, D. & Rad, R. "KRAS gene dosage and evolutionary trajectories define pancreatic cancer phenotypes". Nature 2018 Feb 1;554(7690):62-68.
Abstract
Rad R, Rad L, Wang W, Strong A, Ponstingl H, Bronner I, Mayho M, Steiger K, Weber J, Hieber M, Veltkamp C, Eser S, Geumann U, Öllinger R, Zukowska M, Barenboim M, Cadiñanos J, Friedrich M, Varela I, Constantino-Casas F, Sarver A, ten Hoeve J, Prosser H, Seidler B, Bauer J, Heikenwälder M, Metzakopian E, Krug A, Ehmer U, Schneider G, Knösel T, Rümmele P, Aust D, Robert Grützmann R, Pilarsky C, Ning Z, Wessels L, Schmid RM, Quail MA, Vassilliou GS, Esposito I, Liu P, Saur D, Bradley A. "A conditional PiggyBac transposition system for genetic screening in mice identifies oncogenic networks in pancreatic cancer". Nature Genetics 2015 Jan;47(1):47-56.
Abstract
Rad R, Cadiñanos J, Rad L, Varela I, Strong A, Kriegl L, Constantino-Casas F, Eser S, Hieber M, Seidler B, Price S, Fraga MF, Calvanese V, Hoffman G, Ponstingl H, Schneider G, Yusa K, Grove C, Schmid RM, Wang W, Vassiliou G, Kirchner T, McDermott U, Liu P, Saur D, Bradley A. "A genetic progression model of BrafV600E-induced intestinal tumorigenesis reveals targets for therapeutic intervention". Cancer Cell, 2013 Jul 8;24(1):15-29.
Abstract
Rad R, Rad L, Wang W, Cadinanos J, Vassiliou G, Rice S, Campos LS, Yusa K, Banerjee R, Li MA, de la Rosa J, Strong A, Lu D, Ellis P, Conte N, Yang FT, Liu P, Bradley A. "PiggyBac transposon mutagenesis: a tool for cancer gene discovery in mice." Science. 2010 Nov 19;330(6007):1104-7.
Abstract