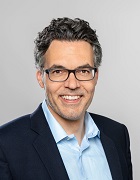 Academic Career and Research Areas
Prof. Dr. med. Hendrik Sager's (*1977) research focusses on the inflammatory component in cardiovascular diseases. More specifically, he investigates the roles of monocytes and macrophages during 1) initiating and progression of atherosclerosis and 2) wound healing secondary to myocardial infarction. His research will aid to develop novel therapeutic approaches in the treatment of cardiovascular diseases.
Prof. Sager studied medicine at the University of Hamburg, Germany. He started his scientific-clinical career in cardiology at the University Clinic Schleswig-Holstein, Campus Lübeck, Germany. He later joined the laboratory of Prof. Dr. Matthias Nahrendorf at Harvard Medical School, Boston, USA. Since 2015 he leads an "ERC starting grant" supported research group at the German Heart Centre Munich, Germany. As a clinician scientist Prof. Sager also works as a senior/attending physician at the cardiology department, German Heart Centre Munich, Germany. In 2019 he was appointed associate professor for "cardiovascular inflammation" at the Technical University Munich (TUM).
Awards
Franz Maximilian Groedel Research Award of the German Society of Cardiology (2021)
Key project of the Else Kröner-Fresenius Foundation (2020)
European Research Council Starting Grant (2018)
Publication award from the German Cardiac Society (2017)
Uta und Jürgen Breunig Research Award from the German Heart Foundation (2016)
Key Publications
Hinterdobler J, Schott S, Jin H, Meesmann A, Steinsiek AL, Zimmermann AS, Wobst J, Müller P, Mauersberger C, Vilne B, Baecklund A, Chen CS, Moggio A, Braster Q, Molitor M, Krane M, Kempf WE, Ladwig KH, Hristov M, Hulsmans M, Hilgendorf I, Weber C, Wenzel P, Scheiermann C, Maegdefessel L, Soehnlein O, Libby P, Nahrendorf M, Schunkert H, Kessler T, Sager HB: "Acute mental stress drives vascular inflammation and promotes plaque destabilization in mouse atherosclerosis". Eur Heart J. 2021 Jul 19:ehab371.
Abstract
Sager HB, Hulsmans M, Lavine KJ, Beltrami Moreira MB, Heidt T, Courties G, Sun Y, Iwamoto Y, Tricot B, Khan OF, Dahlman JE, Borodovsky A, Fitzgerald K, Anderson DG, Weissleder R, Libby P, Swirski FK, Nahrendorf M: "Proliferation and Recruitment Contribute to Myocardial Macrophage Expansion in Chronic Heart Failure". Circulation Research. 2016; 119 (7): 853-864.
Abstract
Sager HB, Dutta P, Dahlman JE, Hulsmans M, Courties G, Sun Y, Heidt T, Vinegoni C, Borodovsky A, Fitzgerald K, Wojtkiewicz GR, Iwamoto Y, Tricot B, Khan OF, Kauffman KJ, Xing Y, Shaw TE, Libby P, Langer R, Weissleder R, Swirski FK, Anderson DG, Nahrendorf M: "RNAi targeting multiple cell adhesion molecules reduces immune cell recruitment and vascular inflammation after myocardial infarction". Science translational medicine. 2016; 8 (342).
Abstract
Sager HB, Heidt T, Hulsmans M, Dutta P, Courties G, Sebas M, Wojtkiewicz GR, Tricot B, Iwamoto Y, Sun Y, Weissleder R, Libby P, Swirski FK, Nahrendorf M: "Targeting Interleukin-1β Reduces Leukocyte Production After Acute Myocardial Infarction". 2015; 132 (20): 1880-1890.
Abstract
Dutta P*, Sager HB* (contributed equally), Stengel KR, Naxerova K, Courties G, Saez B, Silberstein L, Heidt T, Sebas M, Sun Y, Wojtkiewicz G, Feruglio PF, King K, Baker JN, van der Laan AM, Borodovsky A, Fitzgerald K, Hulsmans M, Hoyer F, Iwamoto Y, Vinegoni C, Brown D, Di Carli M, Libby P, Hiebert SW, Scadden DT, Swirski FK, Weissleder R, Nahrendorf M: "Myocardial Infarction Activates CCR2(+) Hematopoietic Stem and Progenitor Cells. Cell Stem Cell. 2015; 16 (5): 477-487.
Abstract