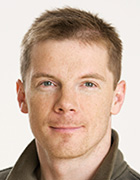 Prof. Dr. Marc Schmidt-Supprian
Academic Career and Research Areas
The research group of Professor Schmidt-Supprian (b. 1972) investigates aspects of human autoimmune diseases and immune cell cancers in genetically modified mice.

Professor Schmidt-Supprian studied chemistry and biochemistry at the Universities of Würzburg and Tübingen and Trinity College Dublin. Between 1999 and 2003 he performed his doctoral studies under the supervision of Professor Rajewsky at the University of Cologne and Harvard Medical School, acquiring his doctorate in 2003. He continued to work with Professor Rajewsky at Harvard as a postdoctoral fellow (2004) and as a junior investigator/instructor in pathology (2004-2007). At the end of 2007 Professor Schmidt-Supprian started a DFG Emmy Noether research group at the Max Planck Institute of Biochemistry. In 2014 he was appointed to a tenure track professorship position at TUM.
Key Publications
Vahl JC, Drees C, Heger K, Heink S, Fischer JC, Nedjic J, Ohkura N, Morikawa H, Poeck H, Schallenberg S, Rieß D, Hein MY, Buch T, Polic B, Schönle A, Zeiser R, Schmitt-Gräff A, Kretschmer K, Klein L, Korn T, Sakaguchi S & Schmidt-Supprian M: "Continuous T Cell Receptor Signals Maintain a Functional Regulatory T Cell Pool." Immunity. 2014; 41: 722–736.
Abstract
Heger K, Fierens K, Vahl JC, Aszodi A, Peschke K, Schenten D, Hammad H, Beyaert R, Saur D, van Loo G, Roers A, Lambrecht BN, Kool M, Schmidt-Supprian M: "A20-Deficient Mast Cells Exacerbate Inflammatory Responses In Vivo". PLoS Biol. 2014; 12(1): e1001762.
Abstract
Vahl JC, Heger K, Knies N, Hein MY, Boon L, Yagita H, Polic B, Schmidt-Supprian M: "NKT cell-TCR expression activates conventional T cells in vivo, but is largely dispensable for mature NKT cell biology". PLoS Biol. 2013; 11(6): e1001589.
Abstract
Bertossi A, Aichinger M, Sansonetti P, Lech M, Neff F, Pal M, Wunderlich FT, Anders HJ, Klein L, Schmidt-Supprian M: "Loss of Roquin induces early death and immune deregulation but not autoimmunity". J Exp Med. 2011; 208(9):1749-1756.
Abstract
Sasaki Y, Derudder E, Hobeika E, Pelanda R, Reth M, Rajewsky K, Schmidt-Supprian M: "Canonical NF-kappaB activity, dispensable for B cell development, replaces BAFF-receptor signals and promotes B cell proliferation upon activation". Immunity. 2006; 24(6):729-739.
Abstract