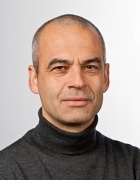 Prof. Dr. Sören Schöbel-Rutschmann
Academic Career and Research Areas
Prof. Schöbel (b. 1967) researches and teaches the conceptual design of open space and landscape as a scientific method ("research by design"). His research focuses on urban and regional open space structures as well as new rural cultural and energy landscapes.
After studying landscape planning at the TU Berlin, Prof. Schöbel worked freelance in design planning, project development and object planning. As a research assistant at the TU Berlin, he earned his doctorate with Prof. Jürgen Wenzel for his work on Qualitative Open Space Planning. In 2005, he was appointed to the position of associate professor at TUM. Prof. Schöbel is a registered landscape architect, member of the Scientific Board of Trustees of the Bavarian Academy for Rural Space, the German Academy for Urban and Regional Planning DASL and the Wind Research Network South WindForS.
Schöbel S: "Bausteine eines neuen Landschaftsvertrags". In: Landschaftsvertrag. Zur kritischen Rekonstruktion der Kulturlandschaft. Editor: Schöbel S. Berlin: jovis, 2017.
Abstract
Schöbel S, Chechowski D: "Beyond Infrastructure and Superstructure – Intermediating Landscapes". In: Revising Green Infrastructure: Concepts between Nature and Design. Editors: Chechowski D, Hauck T, Hausladen G. Boca Raton: CRC/Taylor & Francis, 2014.
Schöbel S: Windenergie und Landschaftsästhetik. Berlin: jovis, 2012.
Abstract
Schöbel S: "Landschaft als Prinzip. Über das Verstehen, Erklären und Entwerfen". Stadt und Grün. 2007; 12: 53-58.
Schöbel S: "Qualitative research as a perspective for urban open space planning". JOLA Journal of Landscape Architecture. 2006; 1: 38-47.