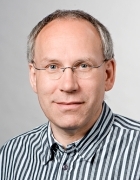 Prof. Dr. Wilfried Schwab
Academic Career and Research Areas
As part of his research, Prof. Schwab (b. 1961) isolates and identifies secondary plant substances and investigates their biosynthesis and metabolism. The goal is biotechnological production of natural products which, due to their technological or physiological effect, determine the quality of foodstuffs (e.g. as additives for "functional foods").
Prof. Schwab studied food chemistry at the University of Würzburg and did his doctorate in 1989. Following a postdoctoral stay at Washington State University, he spent three years working in Hoechst AG's agriculture division. He returned to the University of Würzburg to complete his lecturer qualification in 1999. He worked in research after that, notably at Plant Research International in Wageningen (the Netherlands) and the Spanish National Research Council (CSIC) in Seville (Spain). In 2003, he accepted a position at TUM. Prof. Schwab is the initiator and founding partner of the Start-Up 4GENE, a company that offers biotechnologically produced aroma glucosides.
Awards
Schormüller Fellowship of the LChG (1999)
German Chemical Industry grant (1995)
Dissertation Award of the Lower-Franconian Memorial Foundation for Science and the University of Würzburg (1990)
Key Publications
Bönisch F, Frotscher J, Stanitzek S, Rühl E, Wüst M, Bitz O, Schwab W: "Activity-based profiling of a physiologic aglycone library reveals sugar acceptor promiscuity of family 1 UDP-glucosyltransferases from grape". Plant Physiology. 2014; 166(1): 23-39.
Abstract
Ring L, Yeh SY, Hücherig S, Hoffmann T, Blanco-Portales R, Fouche M, Villatoro C, Denoyes B, Monfort A, Caballero JL, Muñoz-Blanco J, Gershenson J, Schwab W: "Metabolic interaction between anthocyanin and lignin biosynthesis is associated with peroxidase FaPRX27 in strawberry fruit". Plant Physiology. 2013; 163(1): 43-60.
Abstract
Shulaev V, Sargent DJ, Crowhurst RN, Mockler TC, Folkerts O, Delcher AL, Jaiswal P, Mockaitis K, Liston A, Mane SP, Burns P, Davis TM, Slovin JP, Bassil N, Hellens RP, Evans C, Harkins T, Kodira C, Desany B, Crasta OR, Jensen RV, Allan AC, Michael TP, Setubal JC, Celton JM, Rees DJ, Williams KP, Holt SH, Ruiz Rojas JJ, Chatterjee M, Liu B, Silva H, Meisel L, Adato A, Filichkin SA, Troggio M, Viola R, Ashman TL, Wang H, Dharmawardhana P, Elser J, Raja R, Priest HD, Bryant DW Jr, Fox SE, Givan SA, Wilhelm LJ, Naithani S, Christoffels A, Salama DY, Carter J, Lopez Girona E, Zdepski A, Wang W, Kerstetter RA, Schwab W, Korban SS, Davik J, Monfort A, Denoyes-Rothan B, Arus P, Mittler R, Flinn B, Aharoni A, Bennetzen JL, Salzberg SL, Dickerman AW, Velasco R, Borodovsky M, Veilleux RE, Folta KM: "The genome of woodland strawberry (Fragaria vesca)". Nature Genetics. 2011; 43(2): 109-116.
Abstract
Munoz C, Hoffmann T, Medina Escobar N, Ludemann F, Botella MA, Valpuesta V, Schwab W: "The strawberry fruit Fra a allergen functions in flavonoid biosynthesis". Molecular Plant. 2010; 3: 113-124.
Abstract
Schwab W, Davidovich-Rikanati R, Lewinsohn E: "Biosynthesis of plant-derived flavor compounds". Plant Journal. 2008; 54(4): 712-732.
Abstract