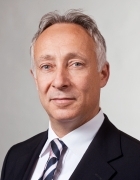 Prof. Dr.-Ing. Veit Senner
Academic Career and Research Areas
The research of Veit Senner (b. 1959) focuses on the interaction between humans, sports equipment and the environment, covering aspects such as biomechanics, user ergonomics, safety and subjective experience.

Senner studied mechanical engineering at TUM and received a doctorate for his work on product development. He completed a second course of study in sports science, majoring in high-performance sports, also at TUM. He then worked in industry for 6 years at TÜV Süddeutschland in the field of medical health sports. Senner is a scientific advisor in court cases involving sports injuries and patent litigation in the field of sports technology. He is chairman of the working group on Snow Sports at Universities and of an ISO standards committee. He is also a staff member of the Department of Sports and Health Sciences at TUM, and was vice dean of this department from 2005 to 2009.
Nusser M, Hermann A, Senner V: "Artificial Knee Joint and Ski Load Simulator for the Evaluation of Knee Braces and Ski Bindings". Procedia Engineering. 2016; 147: 220-227.
Abstract
Lehner S, Geyer T, Michel FI, Schmitt KU, Senner V: "Wrist Injuries in Snowboarding – Simulation of a Worst Case Scenario of Snowboard Falls". Procedia Engineering. 2014; 72: 255–260.
Abstract
Senner V, Michel FI, Lehner S, Brügger O: "Technical possibilities for optimising the ski-binding-boot functional unit to reduce knee injuries in recreational alpine skiing". Sports Engineering. 2013; 16(4): 211-228.
Abstract
Lehner S, Wallrapp O, Senner V: "Use of headgear in football - A computer simulation of the human head and neck". Procedia Engineering. 2010; 2(2): 3263-3268.
Abstract
Böhm H, Senner V: "The effect of skiboot settings on tibio-femoral abduction and rotation during standing and simulated skiing". J Biomech. 2008; 41(3): 498-505.
Abstract