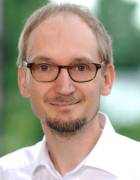 Apl. Prof. Dr. Thomas Skurk
Academic Career and Research Areas
Prof. Skurk (*1970) is head of the Core Facility Human Studies at the ZIEL Institute for Food and Health and researches the effects of nutrition on the human body. As a doctor of nutritional medicine, his expertise is on the prevention and therapy of nutrition-related diseases and new diagnostic possibilities with a focus on diabetes and obesity.

Prof. Skurk studied human medicine at the universities of Regensburg and Würzburg. He then worked at the German Diabetes Research Institute (DDFI, now (DDZ), a Leibniz Center at the Heinrich Heine University in Düsseldorf. Since 2003, Prof. Skurk has been at the Technical University of Munich, where he was initially responsible for setting up the laboratory and the human studies unit at the Chair of Nutritional Medicine. In 2010, he achieved his habilitation in nutritional medicine here. Since 2017, he has been head of the Core Facility Human Studies at the ZIEL Institute for Food and Health, where he is currently researching targeted forms of nutrition for metabolic diseases such as type 2 diabetes.
Key Publications
Skurk T, Bosy-Westphal A, Grünerbel A, Kabisch S, Keuthage W, Kronsbein P, Müssig K, Nussbaumer H, Pfeiffer AFH, Simon MC, Tombek A, Weber K, Rubin D. Empfehlungen zur Ernährung von Personen mit Typ-2-Diabetes mellitus. Diabetolgie 2022;17 (Suppl 2): S256-S290.
Abstract
Kellerer T, Kleigrewe K, Brandl B, Hofmann T, Hauner H, Skurk T. Fatty acid esters of hydroxy fatty acids (FAHFAs) are associated with diet, BMI and age. Front Nutr 2021.
Abstract
Fischer B, Schöttl T, Schempp C, Fromme T, Hauner H, Klingenspor M, Skurk T. Inverse relationship between body mass index and mitochondrial oxidative phosphorylation capacity in human subcutaneous adipocytes. Am J Physiol Endocrinol Metab. 2015 Aug;309:E380-387-ajpendo.00524.2014.
Abstract
Arner P, Samuel Bernard, Mehran Salehpour, Göran Possnert, Jakob Liebl, Peter Steier, Bruce A. Buchholz, Mats Eriksson, Erik Arner, Hans Hauner, Skurk T, Mikael Rydén, Keith N. Frayn & Kirsty L. Spalding. Dynamics of human adipose lipid turnover in health and metabolic disease. Nature 2011;478(7367):110-113.
Abstract
Skurk T, Alberti-Huber, Herder C, Hauner H. Relationship between adipocyte size and adipokine expression and secretion. J Clin Endocinol Metab 2007 Mar;92(3):1022-1033.
Abstract