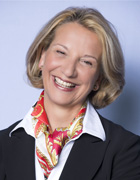 Prof. Dr. Birgit Spanner-Ulmer
Academic Career and Research Areas
In her professorship "Production and Technology in the Media Industry", Prof. Spanner-Ulmer focuses on practical case studies as well as bachelor and master theses in close cooperation with Bayerischer Rundfunk (Bavarian Broadcasting, BR). The focus here is on audio/video production, media in transition, program and technology planning, distribution channels and public broadcasting in Germany and the development of the media.
Professor Spanner-Ulmer studied engineering management at TU Karlsruhe. She subsequently obtained her doctorate from TUM and acquired her postdoctoral teaching qualification (habilitation) at the Catholic University of Eichstätt and Ingolstadt. Professor Spanner-Ulmer subsequently took on a management role at Audi AG in Ingolstadt/Germany where she initially worked in the production area and later in technical development. She stayed with the company for six years during which time she gained considerable experience of the industry. Between 2004 and January 2012 she held the position of professor of industrial studies in the Mechanical Engineering Faculty at TU Chemnitz.
Professor Spanner-Ulmer is currently on leave of absence from TUM and director of production and technology at BR. In this role she is responsible for television and radio production and all other issues concerning production, broadcast technology, distribution, and planning. Her work also focuses on the optimization of the interactions between people, technology and organizations in change processes and trimedial working environments.