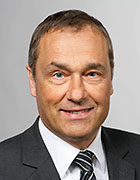 Academic Career and Research Areas
The research area of Professor Stroth (b. 1957) is plasma physics. His current research focus is on non-linear plasma dynamics, plasma turbulence, transport processes and plasma-wall interactions. His experimental work concentrates on magnetically confined plasmas as examined in the field of fusion research. A major focus of this research is the ASDEX upgrade tokamak and the TJ-K stellarator.

After studying physics at TH Darmstadt a grant enabled Professor Stroth to complete his doctorate (1987) at the Institute Laue-Langevin (ILL) in Grenoble, France. He then became a member of the research staff at the Max Planck Institute (MPI) for Plasma Physics. Following research posts in the USA and Japan, Professor Stroth was appointed professor of physics at the University of Kiel (1999) where he set up a unique experiment designed to explore plasma turbulence. In 2004 he was appointed director of the Institute for Plasma Research at the University of Stuttgart. Since 2010 he has been a scientific member of the Max Planck Institute (MPI) for Plasma Physics. Professor Stroth is also a board member of the German Plasma Technology Society. He joined TUM as a full professor in 2012.
Key Publications
U. Stroth et al., Model for access and stability of the X-point radiator and the threshold for marfes in tokamak plasmas, Nucl. Fusion 62 (2022) 076008.
Abstract
U. Stroth, Textbook "Plasmaphysik, Phänomene, Grundlagen, Anwendungen", Springer Spektrum, Berlin, Heidelberg 2018.
Abstract
U. Stroth et al., Progress from ASDEX Upgrade experiments in preparing the physics basis of ITER operation and DEMO scenario development, Nucl. Fusion 62 (2022) 042006.
Abstract
U. Stroth et al., Stellarator-tokamak energy confinement comparison based on ASDEX Upgrade and Wendelstein 7-X hydrogen plasmas. Nucl. Fusion 61 (2020) 016003.
Abstract
U. Stroth et al., Experimental turbulence studies for gyro-kinetic code validation using advanced microwave diagnostics, Nucl. Fusion 55 (2015) 83027.
Abstract