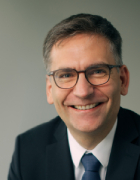 Academic Career and Research Areas
Prof. Dr. Mario Trapp (*1976) holds the chair "Engineering Resilient Cognitive Systems" and is also executive director of the Fraunhofer Institute for Cognitive Systems IKS in Munich. For his research focus on the engineering of resilient cognitive systems, he combines his many years of experience in the field of model-based safety engineering with the engineering of self-adaptive software systems. In addition to basic research, successful transfer to industrial practice is particularly important to him.,
Prof. Dr. Mario Trapp has held the Chair of Engineering Resilient Cognitive Systems at the Faculty of Computer Science at the Technical University of Munich since 2022. He studied Technoinformatics at the TU Kaiserslautern, where he received his PhD with distinction in 2005. In 2016, he also completed his habilitation at TU Kaiserlautern and was appointed as an apl. professor in the Department of Computer Science in 2018.
Trapp M, Schneider D. Safety assurance of open adaptive systems–a survey. In Models@run.time 2014 (pp. 279-318). Springer, Cham.
Abstract
Schneider D, Trapp M. B-space: dynamic management and assurance of open systems of systems. Journal of Internet Services and Applications. 2018 Dec;9(1):1-6.
Abstract
Schneider D, Trapp M. Conditional safety certification of open adaptive systems. ACM Transactions on Autonomous and Adaptive Systems (TAAS). 2013 Jul 1;8(2):1-20.
Abstract
Adler R, Schaefer I, Trapp M, Poetzsch-Heffter A. Component-based modeling and verification of dynamic adaptation in safety-critical embedded systems. ACM Transactions on Embedded Computing Systems (TECS). 2011 Jan 7;10(2):1-39.
Abstract
Trapp M, Schneider D, Weiss G. Towards safety-awareness and dynamic safety management. In 2018 14th European Dependable Computing Conference (EDCC) 2018 Sep 10 (pp. 107-111). IEEE.
Abstract