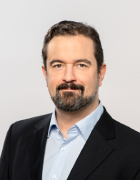 Prof. Dr. Christoph Ungemach
Academic Career and Research Areas
Prof. Ungemach focuses on interdisciplinary research in the field of sustainable consumer behavior, at the intersection of marketing, psychology, and data science. His work investigates the underlying principles and drivers of consumer decision-making. Building on these insights he is developing ethical choice architecture interventions to promote sustainable behavior and address societal challenges. He also examines how behavioral interventions can be facilitated through the application of new technologies and data science.
Prof. Ungemach studied Psychology at the University of Giessen and received his PhD at the University of Warwick, where he also worked as a postdoctoral researcher. Afterward, he held a position as Associate Research Scientist at the Center for Research on Environmental Decisions at Columbia University, where he remains a Research Affiliate. He also worked as a Data Scientist for a New York tech startup. In 2016 Prof. Ungemach was appointed Professor of Marketing at TUM School of Management. He is a member of the Munich Data Science Institute.
Key Publications
Ungemach, C., Camilleri, A. R., Johnson, E. J., Larrick, R. P., & Weber, E. U. (2018). Translated Attributes as Choice Architecture: Aligning Objectives and Choices Through Decision Signposts. Management Science, 64(5), 2445-2459.
Abstract
Birnbaum, M. H., Navarro-Martinez, D., Ungemach, C., Stewart, N., & Quispe-Torreblanca, E. G. (2016). Risky decision making: Testing for violations of transitivity predicted by an editing mechanism. Judgment and Decision Making, 11, 75.
Abstract
Stewart, N., Ungemach, C., Harris, A. J., Bartels, D. M., Newell, B. R., Paolacci, G., & Chandler, J. (2015). The average laboratory samples a population of 7,300 Amazon Mechanical Turk workers. Judgment and Decision Making, 10, 479-491.
Abstract
Ungemach, C., Stewart, N., & Reimers, S. (2011). How incidental values from the environment affect decisions about money, risk, and delay. Psychological Science, 22, 253-260.
Abstract
Ungemach, C., Chater, N., & Stewart, N. (2009). Are probabilities overweighted or underweighted, when rare outcomes are experienced (rarely)? Psychological Science, 20, 473-479.
Abstract