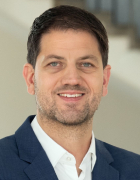 Academic Career and Research Areas
Prof. Dr. Ingo Weber is Professor of IT Service Management, Development and Operations at the TUM School of Computation, Information and Technology. Ingo Weber is also Director of Digitization and ICT Infrastructure at the Fraunhofer-Gesellschaft. Before moving to Munich, he was Full Professor of Software and Business Engineering at Technische Universität Berlin from 2019 to 2022. Before that, he spent ten years in Sydney, Australia, where he worked for the research institutions CSIRO, NICTA and UNSW. In 2009, he received his PhD from the then University of Karlsruhe (TH) and worked in parallel for SAP Research.

In his research, Ingo Weber focuses on various subfields of computer science, in particular business process management and process mining, software architecture and engineering, DevOps, and blockchain. He is author of numerous publications and co-author of the textbooks "DevOps: A Software Architect's Perspective" (2015) and "Architecture for Blockchain Applications" (2019).
Awards
Two times Best Blockchain Forum Paper Award: BPM 2019 and BPM 2022
Various awards in the categories Science Excellence, Impact and Global Outlook from CSIRO and NICTA in the years 2015 - 2018
Best Student Paper Award, ICAPS 2016
Best Paper Award, ISSRE 2015
Best Reviewer Award, BPM conference 2015
Xiwei Xu, Ingo Weber, and Mark Staples. Architecture for Blockchain Applications. Springer, 2019.
Abstract
Len Bass, Ingo Weber, and Liming Zhu. DevOps: A Software Architect's Perspective. Addison-Wesley Professional, 2015.
Abstract
Orlenys López-Pintado, Luciano García-Bañuelos, Marlon Dumas, Ingo Weber, and Alex Ponomarev. Caterpillar: A business process execution engine on the Ethereum blockchain. Software: Practice and Experience, 49:1162-1193, May 2019.
Abstract
Xiwei Xu, Ingo Weber, Mark Staples, Liming Zhu, Jan Bosch, Len Bass, Cesare Pautasso, and Paul Rimba. A taxonomy of blockchain-based systems for architecture design. In ICSA'17: IEEE International Conference on Software Architecture, Gothenburg, Sweden, April 2017.
Abstract
Ingo Weber, Xiwei Xu, Régis Riveret, Guido Governatori, Alexander Ponomarev, and Jan Mendling. Untrusted business process monitoring and execution using blockchain. In BPM'16: International Conference on Business Process Management, Rio de Janeiro, Brazil, September 2016.
Abstract