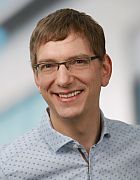 Prof. Dr. Mathias Wilhelm
Academic Career and Research Areas
Professor Wilhelm (*1984) investigates how mass spectrometric data can be better understood, made usable for the broad scientific community and how findings from it can be translated into research and clinical practice. To this end, he develops platforms and tools for scientists to evaluate, analyze and interpret their own data in an integrative manner. For this, he uses state-of-the-art methods from computer science, such as in-memory databases and neural networks.
Professor Wilhelm studied bioinformatics and informatics in the natural sciences at the University Bielefeld. After an employment at the Harvard Medical School in the Children's Hospital Boston, he started his PhD in computational proteomics at the TUM. In 2017, he became the bioinformatics group leader at the Chair of Proteomics and Bioanalytics. 2021 Professor Wilhelm was appointed to the professorship for Computational Mass Spectrometry at TUM. Professor Wilhelm is co-founder of the biotech companies OmicScouts and MSAID.
Gessulat S, Schmidt T, Zolg DP, Samaras P, Schnatbaum K, Zerweck J, Knaute T, Rechenberger J, Delanghe B, Huhmer A, Reimer U, Ehrlich HC, Aiche S, Kuster B, Wilhelm M: "PROSIT: Proteome-wide prediction of peptide tandem mass spectra by deep learning". Nature Methods. 2019; 16(6):509-518. doi: 10.1038/s41592-019-0426-7.
Abstract
Schmidt T, Samaras P, Frejno M, Gessulat S, Barnert M, Kienegger H, Krcmar H, Schlegl J, Ehrlich HC, Aiche S, Kuster B, Wilhelm M: "ProteomicsDB". Nucleic Acids Res. 2018; 46(D1):D1271-D1281. doi: 10.1093/nar/gkx1029.
Abstract
Klaeger S, Heinzlmeir S, Wilhelm M, Polzer H, Vick B, Koenig PA, Reinecke M, Ruprecht B, Petzoldt S, Meng C, Zecha J, Reiter K, Qiao H, Helm D, Koch H, Schoof M, Canevari G, Casale E, Depaolini SR, Feuchtinger A, Wu Z, Schmidt T, Rueckert L, Becker W, Huenges J, Garz AK, Gohlke B, Zolg DP, Kayser G, Vooder T, Preissner R, Hahne H, Tõnisson N, Kramer K, Götze K, Bassermann F, Schlegl J, Ehrlich HC, Aiche S, Walch A, Greif PA, Schneider S, Felder ER, Ruland J, Médard G, Jeremias I, Spiekermann K, Kuster B: "The target landscape of clinical kinase drugs". Science. 2017; 358(6367):eaan4368. doi: 10.1126/science.aan4368.
Abstract
Zolg DP, Wilhelm M, Schnatbaum K, Zerweck J, Knaute T, Delanghe B, Bailey DJ, Gessulat S, Ehrlich HC, Weininger M, Yu P, Schlegl J, Kramer K, Schmidt T, Kusebauch U, Deutsch EW, Aebersold R, Moritz RL, Wenschuh H, Moehring T, Aiche S, Huhmer A, Reimer U, Kuster B: "Building ProteomeTools based on a complete synthetic human proteome". Nat Methods. 2017; 14(3):259-262. doi: 10.1038/nmeth.4153.
Abstract
Wilhelm M, Schlegl J, Hahne H, Moghaddas Gholami A_, Lieberenz M, Savitski MM, Ziegler E, Butzmann L, Gessulat S, Marx H, Mathieson T, Lemeer S, Schnatbaum K, Reimer U, Wenschuh H, Mollenhauer M, Slotta-Huspenina J, Boese JH, Bantscheff M, Gerstmair A, Faerber F, Kuster B: "Mass-spectrometry-based draft of the human proteome". Nature. 2014; 509(7502):582-7. doi: 10.1038/nature13319.
Abstract