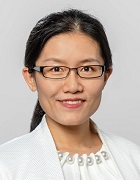 Academic Career and Research Areas
The research of Professor Zhu (b. 1982) aims at deepening the insight into real estate development from economic and financial perspectives. Her research in real estate finance focuses on applying corporate finance theory and asset pricing model to real estate investments. Another focus of her research is the real estate market, where her interests include sustainable real estate, the commercial real estate market, housing bubbles, as well as mortgage and monetary policy.
Professor Zhu studied construction management in China. She received her doctorate in real estate economics at EBS University of Business and Law in 2011. Before joining the Technical University of Munich in 2019, she worked as a lecturer at the University of Regensburg, the University of Cambridge, and the University of Reading and completed her teaching qualification (Habilitation) at the University of Regensburg in 2018. She serves on the editorial board of the Journal of European Real Estate Research and the scientific committee board of European Commercial Real Estate Data Alliance, and the refereed session of the European Real Estate Society's Annual Conference.
Awards
GSSI 2021 Journal of International Real Estate Review Best Paper Gold Awards (2022)
Best Paper Award by American Real Estate and Urban Economic Association (AREUEA) -International Conference (2022)
Best Paper Award by Chinese Global Real Estate Congress 3rd Prize (2018)
Innovative Thinking "Thinking Out of the Box" Award. American Real Estate Society (ARES) (2015)
Excellent Real Estate Research Award by German Real Estate Society (GIF) 1st Prize (2011)
Key Publications
Li. L., A. Yavas, and B. Zhu (2023). Externalities of Residential Property Flipping. Real Estate Economics. Accepted, in press.
Abstract
Downs, D. and B. Zhu (2022). Property Market Liquidity and REIT Liquidity. Real Estate Economics. 50, 1462– 1491.
Abstract
Zhu, B. K. Pain, P. Taylor, and B. Derudder (2022). Exploring External Urban Relational Processes: Inter-city Financial Flows complementing Global City-Regions. Regional Studies. 56 (5), 737-750.
Abstract
Zhu, B. and C. Lizieri (2021). Connected Markets through Global Real Estate Investments. Real Estate Economics. 49(S2), 618-654.
Abstract
Milcheva, S. and B. Zhu (2015). Bank Integration and Co-movements across Housing Markets. Journal of Banking and Finance. 72:S148-S171.
Abstract