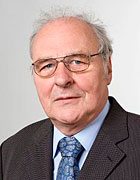 Prof. Dr. Thomas Zilker
Professorship
Toxikology
Professor emeritus since April 1, 2012
Academic Career and Research Areas
Professor Zilker (b.1946) has been director of the Toxicology Department at TUM's Klinikum rechts der Isar since 1993. The main focus of his research is removing poisons, antidote therapy, flue gas inhalation poisoning, the effect and treatment of mushroom poisoning and idiopathic environmental illness (IEI, MCS). Before specializing in the field of clinical toxicology, he worked in diabetology and played a key role in the discovery of proinsulin cleavage products and the development of a radioimmuno assay for proinsulin.
Professor Zilker completed his PhD in 1973 at LMU and acquired his postdoctoral teaching qualification in 1979 at TUM. Since 1971 he has worked at Klinikum rechts der Isar. During this time he completed two periods of study abroad at the Department for Clinical Biochemistry in Cambridge (1980) and at the Swiss Toxicological Information Centre (1988). He has been board certified in internal medicine since 1978 and has additional qualifications in endocrinology, environmental medicine and psychotherapy. His clinical specialties include intensive care and addiction medicine.
Key Publications
Thiermann H, Zilker T, Eyer F, Felgenhauer N, Eyer P, Worek F: "Monitoring of neuromuscular transmission in organophosphate pesticide-poisoned patients". Toxicol Lett. 2009; 191(2-3): 297-304.
Abstract
Eyer F, Zilker T: "Bench-to-bedside review: mechanisms and management of hyperthermia due to toxicity". Crit Care. 2007; 11(6): 236.
Abstract
Ganzert M, Felgenhauer N, Zilker T: "Indication of liver transplantation following amatoxin intoxication". J Hepatol. 2005; 42: 202-209.
Abstract
Eyer F, Pfab R, Felgenhauer N, Lutz J, Heemann U, Steimer W, Zondler S, Fichtl B, Zilker T: "Lithium poisoning: pharmacokinetics and clearance during different therapeutic measures". J Clin Psychopharmacol. 2006; 26(3): 325-330.
Abstract
Zilker T, Gray IP, Hales CN, Wahl K, Ermler R, Lebender A, Heinzel G, Bottermann P: "Pharmakokinetics of biosynthetic human proinsulin following intravenous and subcutaneous administration in metabolically healthy volunteers". Hormone and Metabolic Research, Suppl. 1988; 18: 37-43.
Abstract