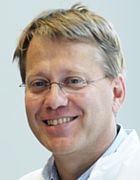 Academic Career and Research Areas
Professor Zimmer (b. 1958) has been director of the Department for Neuroradiology at Klinikum rechts der Isar at TUM since 2005. The main focus area of his research is the diagnosis and minimally invasive catheter-supported treatment of diseases of the central and peripheral nervous system. Furthermore, he is involved in the development of new imaging techniques, such as magnet resonance tomography (MRT), with the aim of making brain disease visible on a cellular and molecular level ("molecular imaging"). His work forms part of a significant number of research projects funded by public institutions such as the German Research Foundation (DFG), Germany's Federal Ministry of Education and Research and the Bavarian Research Funding Organization.
Awards
Kurt Decker Award of the German Society of Neuroradiology (1996, 2005)
Springer Award of the European Society of Neuroradiology, together with A. Förschler (2005)
Science Award of the University of Leipzig for outstanding scientific achievements in the field of medicine and life sciences (2003)
Kaczmarz S, Göttler J, Petr J, Hansen MB, Mouridsen K, Zimmer C, Hyder F, Preibisch C.J: "Hemodynamic impairments within individual watershed areas in asymptomatic carotid artery stenosis by multimodal MRI". Cereb Blood Flow Metab. 2021; 41(2):380-396.
Abstract
Novotny J, Oberdieck P, Titova A, Pelisek J, Chandraratne S, Nicol P, Hapfelmeier A, Joner M, Maegdefessel L, Poppert H, Pircher J, Massberg S, Friedrich B, Zimmer C, Schulz C, Boeckh-Behrens T: "Thrombus NET content is associated with clinical outcome in stroke and myocardial infarction". Neurology. 2020; 94(22).
Abstract
Hedderich DM, Avram M, Menegaux A, Nuttall R, Zimmermann J, Schneider SC, Schmitz-Koep B, Daamen M, Scheef L, Boecker H, Zimmer C, Baumann N, Bartmann P, Wolke D, Bäuml JG, Sorg C: "Hippocampal subfield volumes are nonspecifically reduced in premature-born adults". Hum Brain Mapp. 2020; 41(18):5215-5227.
Abstract
Finck T, Liesche-Starnecker F, Probst M, Bette S, Ruf V, Wendl C, Dorn F, Angstwurm K, Schlegel J, Zimmer C, Wiestler B, Wiesinger I: "Bornavirus Encephalitis Shows a Characteristic Magnetic Resonance Phenotype in Humans". Bornavirus-Encephalitis Study Group. Ann Neurol. 2020; 88(4):723-735.
Abstract
Eichinger P, Schön S, Pongratz V, Wiestler H, Zhang H, Bussas M, Hoshi MM, Kirschke J, Berthele A, Zimmer C, Hemmer B, Mühlau M, Wiestler B: "Accuracy of Unenhanced MRI in the Detection of New Brain Lesions in Multiple Sclerosis". Radiology. 2019; 291(2):429-435.
Abstract