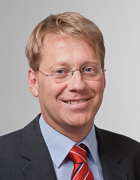 Academic Career and Research Areas
Professor Zimmer (b. 1958) has been director of the Department for Neuroradiology at Klinikum rechts der Isar at TUM since 2005. The main focus area of his research is the diagnosis and minimally invasive catheter-supported treatment of diseases of the central and peripheral nervous system. Furthermore, he is involved in the development of new imaging techniques, such as magnet resonance tomography (MRT), with the aim of making brain disease visible on a cellular and molecular level ("molecular imaging"). His work forms part of a significant number of research projects funded by public institutions such as the German Research Foundation (DFG), Germany's Federal Ministry of Education and Research and the Bavarian Research Funding Organization.
Awards
Kurt Decker-Preis der Deutschen Gesellschaft für Neuroradiologie (1996, 2005)
Springer-Award der European Society of Neuroradiology, zusammen mit A. Förschler (2005)
Wissenschaftspreis der Universität Leipzig für herausragende wissenschaftliche Leistungen auf dem Gebiet der Medizin und Biowissenschaften (2003)
Key Publications
Otti A, Guendel H, Läer L, Wohlschlaeger AM, Lane RD, Decety J, Zimmer C, Henningsen P, Noll-Hussong M: "I know the pain you feel - How the human brain's default mode predicts our resonance to another's suffering". Neuroscience. 2010;169(1):143-148.
Abstract
Stroh A, Boltze J, Sieland K, Hild K, Gutzeit C, Jung T, Kressel J, Hau S, Reich D, Grune T, Zimmer C: "Impact of magnetic labeling on human and mouse stem cells and their long-term magnetic resonance tracking in a rat model of Parkinson disease". Mol Imaging. 2009; 8(3):166-178.
Abstract
Dresel C, Parzinger A, Rimpau C, Zimmer C, Ceballos-Baumann AO, Haslinger B: "A new device for tactile stimulation during fMRI". Neuroimage. 2008; 39(3): 1094-1103.
Abstract
Sorg C, Riedl V, Mühlau M, Calhoun VD, Eichele T, Läer L, Drzezga A, Förstl H, Kurz A, Zimmer C, Wohlschläger AM: "Selective changes of resting-state networks in individuals at risk for Alzheimer's disease". Proc Natl Acad Sci USA. 2007; 104(47):18760-18765.
Abstract
Mühlau M, Gaser C, Ilg R, Conrad B, Leibl C, Cebulla MH, Backmund H, Gerlinghoff M, Lommer P, Schnebel A, Wohschläger AM, Zimmer C, Nunnemann S: "Gray matter decrease of the anterior cingulate cortex in anorexia nervosa". Am J Psychiatry. 2007;164(12):1850-1857.
Abstract