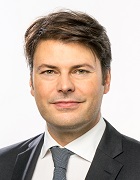 Prof. Dr. Markus Zimmermann
Academic Career and Research Areas
Markus Zimmermann's (*1976) research is concerned with design and optimization of complex technical systems, in particular from structural mechanics and mechatronics. He develops methods and optimization techniques that are applied, e.g., in interdisciplinary automotive vehicle development.
Markus Zimmermann graduated from the Technical University of Berlin and the University of Michigan at Ann Arbor, U.S., earning Master's degrees in Engineering Science and Mechanical Engineering, respectively. He spent one year at the École Polytechnique close to Paris and received his Ph.D. degree from the Massachusetts Institute of Technology (MIT) in Cambridge, U.S., in mechanical engineering in 2005. Before he was appointed university professor at TUM in November 2017, he spent 12 years at BMW in the departments for vehicle body development, vehicle safety and vehicle dynamics. At BMW, he was responsible for several projects to develop and implement new methods for multidisciplinary design with particular focus on uncertainty and complexity.
Key Publications
Vogt M, Duddeck F, Wahle M, Zimmermann M: "Optimizing tolerance to uncertainty in systems design with early-and late-decision variables". IMA Journal of Management Mathematics. 2018.
Abstract
Zimmermann M, Königs S, Niemeyer C, Fender J, Zeherbauer C, Vitale R, Wahle M: "On the design of large systems subject to uncertainty". Journal of Engineering Design. 2017; 28(4): 233-254.
Abstract
Eichstetter M, Müller S, Zimmermann M: "Product Family Design With Solution Spaces". Journal of Mechanical Design. 2015; 137(12): 121401.
Abstract
Fender J, Duddeck F, Zimmermann M: "On the calibration of simplified vehicle crash models". Structural and Multidisciplinary Optimization. 2014; 49(3): 455-469.
Abstract
Zimmermann M, Edler von Hoessle J: "Computing Solution Spaces for Robust Design". International Journal for Numerical Methods in Engineering. 2013; 94(3): 290-307.
Abstract