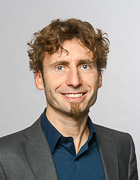 Academic Career and Research Areas
Prof. Mess (*1976) conducts research in the field of intervention and implementation research in the areas of health and education. On the one hand, the aim is to enable people, especially children and young people, to lead active, healthy and sustainable lifestyles in their living environments using competence-oriented approaches. The core expertise lies in the development and implementation of didactic concepts that strengthen movement and health skills and promote educational processes. Movement, sport and nature serve as important stimuli. On the other hand, the research also aims to shape the living (environment) worlds - the focus is on the living worlds of schools, workplaces, communities and health care facilities - together with the corresponding target groups. With such research projects, Prof. Mess takes up socially relevant challenges, such as equal opportunities in health and education, demographic change and sustainable development.
Mess studied sport science, mathematics and pedagogy at the University of Konstanz (2003). After earning his undergraduate degree, he went on to complete his PhD (2007) at the same university and acquired his postdoctoral teaching qualification (habilitation) (2014) at Karlsruhe Institute of Technology (KIT) (venia legendi in sport science). Between 2012 and 2014 he held the position of interim professor of the Social Science of Sport at the University of Konstanz. In 2014 he was appointed to a W3-professorship position at the University of Education in Schwäbisch Gmünd. At the beginning of the 2015/16 winter term he took on the professorship for Didactic Methods in Sport and Health at TUM.
Awards
Supervisory Award (supervision of doctoral students) of the Technical University of Munich, Faculty of Sport and Health Sciences (2018)
Teaching Award of the Technical University of Munich, Faculty of Sport and Health Sciences (2017)
University of Konstanz Student-led Teaching Award (2013)
Doctoral Dissertation Publication Prize, Publishers Karl Hofmann (2008)
Key Publications
Jaitner, D. & Mess, F.: "Participation can make a difference to be competitive in sports: A systematic review on the relation between complex motor development and self-controlled learning settings". International Journal of Sports Science & Coaching. 2019; 14(2): 255-269.
Abstract
Rabel, M., Laxy, M., Thorand, B., Peters, A., Schwettmann, L. & Mess, F.: "Clustering of Health-Related Behavior Patterns and Demographics. Results From the Population-Based KORA S4/F4 Cohort Study". Frontiers in Public Health. 2019; 6: 387.
Abstract
Becker C, Lauterbach G, Spengler S, Dettweiler U, Mess F: "Effects of Regular Classes in Outdoor Education Settings. A Systematic Review on Students' Learning, Social and Health Dimensions". International Journal of Environmental Research and Public Health. 2017; 14(5): 485.
Abstract
Spengler S, Mess F, Woll A: "Do media use and physical activity behavior compete in adolescents? Results of the MoMo Study". Plos One. 2015; 10(12), e0142544.
Abstract
Rauner A, Mess F, Woll A: "The relationship between physical activity, physical fitness and overweight in adolescents: a systematic review of studies published in or after 2000". BMC Pediatrics. 2013; 13: 19.
Abstract