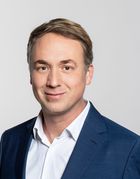 PD Dr. med. Uwe Thiel
Heisenberg-Programme
Identification of tumour-antigen specific T cell receptors for non-viral CRISPR/Cas9 mediated orthotopic- vs. retro-viral transduction to engineer high-functional T cell responses against Ewing's sarcoma.
Department of Pediatric Medicine
Academic Career and Research Areas
PD Dr Uwe Thiel's research area is the translational cellular immonotherapy of pediatric sarcoma with a focus on adoptive T cell therapy of metastasized Ewing sarcoma. Paediatric patients with advanced sarcoma carry a poor prognosis which is why innovative therapy options for these patients are urgently needed. The success of immunotherapy in the treatment of patients with solid tumours is predominantly restricted to entities showing high numbers of tumour infiltrating T cells e.g. directed against somatic mutation derived neo-antigens such as in malignant melanoma. However, unlike melanoma, paediatric cancers such as Ewing's sarcoma (EwS) are predominantly less immunogenic, probably due to low somatic mutation rates. The role of allogeneic stem cell transplantation as an unspecific immunotherapeutic tool to induce a graft-versus-tumour effect in paediatric sarcoma patients is currently under investigation. Case reports indicate occasional triggering of such a graft-versus-tumour effect in EwS patients. This therapy option though, is highly toxic and does not seem to improve survival rates, . We demonstrated that infusion of unspecific donor lymphocytes after allogeneic stem cell transplantation has the capacity to induce tumour control in paediatric sarcoma patients. This effect, however, is bought with a high risk for life-threatening graft-versus-host-disease (GvHD), emphasising the need to identify tumour-specific cellular approaches. In our hands, paediatric sarcoma has become susceptible to immunotherapy using peptide/HLA-A2 tumour specific allo-restricted wildtype- and retrovirally T cell receptor transduced T cells directed against several EwS associated tumour antigens in vitro and in a preclinical mouse model. These antigens were chosen based on their parental molecules being essential for malignancy and/or metastasis. In some patients treated with these T cells, adoptive transfer led to in vivo persistence without inducing GvHD. Furthermore, these T cells homed to affected bone marrow and were associated with partial tumour regression (Thiel et al 2014). Schober et al. (2019)5 showed that the use of CRISPR/Cas9 mediated non-viral knock-in of the T cell receptor into T cells showed higher therapeutic potential due to improved suppression of the endogenous T cell receptor and thus stronger resemblance to a wildtype T cell in comparison to retrovirally transduced T cells. This should be exploited not only for immunotherapeutic approaches in paediatric sarcoma, but also in other paediatric tumour entities.
Dr Uwe Thiel studied human medicine in Hamburg, Heidelberg, Lille (France) and Lübeck. He graduated from the University of Lübeck and received his medical licence in December 2006. He received his doctoral approval on his experimental studies on the pathogenesis of the prune belly syndrome in infants in 2009 (Professor Franz Schaefer, University of Heidelberg, Department of Pediatric Nephrology). Uwe Thiel started his professional career in 2007 as an intern at the Centro Médico Parroquial Espíritu Santo in Arequipa/Peru. Since 2008 he works as a physician scientist/ward physician and research working group leader at the Department of Pediatrics and Children's Cancer Research Center (CCRC) - Paediatric Haematology and Oncology, Children's Cancer Research Center Department of Pediatrics, Technische Universität München (TUM). In 2019 he received his lecturer licence. Uwe Thiel is currently specialized chief resident in the pediatric hematology/oncology ward with a focus on allogeneic stem cell tranplantations and cellular based therapies.
Awards
Award in Medical Teaching: "Nachwuchspreis 2019 im Lehrbereich 7", Technische Universität München (2020)
Key Publications
Biele E, Schober SJ, Prexler C, Thiede M, Heyking KV, Gassmann H, Eck J, Xue B, Burdach S, Thiel U (2021) Monocyte Maturation Mediators Upregulate CD83, ICAM-1 and MHC Class 1 Expression on Ewing's Sarcoma, Enhancing T Cell Cytotoxicity. Cells 10(11)
Abstract
Thiel U/Schober SJ, Ranft A, Gassmann H, Jabar S, Gall K, von Lüttichau I, Wawer A, Koscielniak E, Diaz MA, Ussowicz M, Kazantsev I, Afanasyev B, Merker M, Klingebiel T, Prete A, Gruhn B, Bader P, Jürgens H, Dirksen U, Handgretinger R, Burdach S, Lang P. No difference in survival after HLA mismatched versus HLA matched allogeneic stem cell transplantation in Ewing sarcoma patients with advanced disease Bone Marrow Transplant. 2021 Jul;56(7):1550-1557. doi: 10.1038/s41409-020-01200-x. Epub 2021 Jan 29.
Abstract
Gassmann H, Schneider K, Evdokimova V, Ruzanov P, Schober SJ, Xue B, von Heyking K, Thiede M, Richter GHS, Pfaffl MW, Noessner E, Stein LD, Sorensen PH/ Burdach SEG/Thiel U. Ewing Sarcoma-Derived Extracellular Vesicles Impair Dendritic Cell Maturation and Function Cells 2021 Aug 13;10(8):2081.doi: 10.3390/cells10082081.
Abstract
Kirschner A, Thiede M, Grunewald TG, Alba Rubio R, Richter GH, Kirchner T, Busch DH, Burdach S/Thiel U (2017) Pappalysin-1 T cell receptor transgenic allo-restricted T cells kill Ewing sarcoma in vitro and in vivo. Oncoimmunology 6(2): e1273301;
Abstract
Thiel U, Schober SJ, Einspieler I, Kirschner A, Thiede M, Schirmer D et al. Ewing sarcoma partial regression without GvHD by chondromodulin-I/HLA-A*02:01-specific allorestricted T cell receptor transgenic T cells. Oncoimmunology 2017; 6(5): e1312239. e-pub ahead of print 2017/06/24; doi: 10.1080/2162402X.2017.1312239;
Abstract