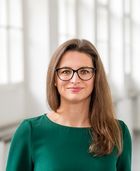 Academic Career and Research Areas
Stefanie Walter studied Social Science at the University of Düsseldorf and Political Communication at Cardiff University. She holds a PhD in Political Science (2015) from the University of Mannheim and worked as a researcher at the Mannheim Center for European Social Research. As a postdoctoral researcher, she spent 3 years at the Institute of Journalism and Communication at the University of Hamburg and 2 years at the University of Bremen's the Centre for Media, Communication and Information Research. Since 2021, she leads her own Emmy Noether Junior Research Group at the Technical University of Munich.
Stefanie Walter conducts research in the area of political and science communication. Her methodological focus is on quantitative methods and computational social science with a special interest in manual and automated text analysis. Together with her team she explores how the news media report on majority and minority groups based on nationality, gender, religion, and sexual orientation.
Awards
• 2021 Emmy Noether Fellowship (2021-)
• Graduate scholarship, Graduate School of Social and Political Sciences, University of Mannheim (2014-2015)
• Graduate scholarship, Mannheim Center for European Social Research, University of Mannheim
• Dirk Berg-Schlosser Award (2012)
• Graduate scholarship of the State of Baden-Württemberg (2011-2012)
Walter S: "Better off Without You? How the British Media Portrayed EU Citizens in Brexit News". International Journal of Press/Politics. 2019; 24(2): 210–232.
Abstract
Walter S, Lörcher I & Brüggemann M: "Scientific Networks on Twitter: Analyzing the Social Media Use of Climate Scientists". Public Understanding of Science. 2019; 29 (6): 696-712.
Abstract
Walter S, Brüggemann M. & Engesser S: "Echo chambers of denial: Explaining user comments on climate change". Environmental Communication, 2018; 12(2): 204-217.
Abstract
Walter S: "Explaining the Visibility of EU Citizens: A Multi-Level Analysis of European Union News". European Political Science Review, 2017; 9(2):233-53.
Abstract