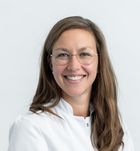 Dr. Gabriela Wiedemann
Emmy Noether Junior Research Group
TGF-b mediated epigenetic control of anti-tumor natural killer cells in primary liver cancer
Academic Career and Research Areas
Dr. Wiedemann studied Medicine at LMU and TUM. After her graduation 2014 (summa cum laude) she continued working as a post-doctoral researcher at the Department for Clinical Pharmacology (LMU). In 2016, she started her clinical fellowship in gastroenterology at the Department of Medicine II at Klinikum rechts der Isar Munich. From 2017 to 2019 she joined Joseph Sun's lab at Memorial Sloan Kettering Cancer Center New York as a research fellow, funded by a DFG research fellowship. After her return to Munich she started her own Emmy Noether research group at the Department of Medicine II (Klinikum rechts der Isar) in 2021.
Dr. Wiedemann investigates the mechanisms underlying the activation and inhibition of natural killer cells. Natural killer cells are crucial effector cells in the anti-tumoral defense. While first clinical trials show promising results, NK cell based tumor therapies are still limited in their efficacy in gastrointestinal tumors.
In her work, Dr. Wiedemann aims to unravel the transcriptional and epigenetic effects on NK cells derived from signals in the tumor microenvironment. The goal is to override inhibitory stimuli and to make NK cell based therapies more effective.
Awards
- DFG Emmy-Noether-Programm (2021)
- KKF Clinician Scientist Program (2020)
- Best Poster Award Natural Killer Cell Symposium Hamburg (2018)
- DFG Research fellowship (2017-2019)
- Harvard LMU Young Scientist's Forum (2014)
Wiedemann GM, Santosa E, Grassman S, Sheppard S, Le Luduec JB, Adams NM, Dang C, Hsu KC, Sun JC, Lau CM. Deconvoluting global cytokine signaling networks in natural killer cells. Nature Immunology 2021
Abstract
Wiedemann GM, Grassmann S, Lau CM, Rapp M, Villarino AV, Friedrich C, Gasteiger G, O'Shea JJ, Sun JC. Divergent Rfole for STAT5 in the Adaptive Responses of Natural Killer Cells. Cell Reports 2020.
Abstract
Wiedemann GM, Geary CD, Lau CM, Sun JC. Cutting Edge: STAT1-Mediated Epigenetic Control of Rsad2 Promotes Clonal Expansion of Antiviral NK Cells. Journal of Immunology, 2020.
Abstract
Wiedemann GM, Röhrle N, Makeschin MC, Fesseler J, Endres S, Mayr D, Anz D. Peritumoral CCL1 and CCL22 expressing cells in hepatocellular carcinomas shape the tumor immune infiltrate. Pathology, 2019
Abstract
Wiedemann GM, Jacobi SJ, Chaloupka M, Krächan A, Hamm S, Strobl S, Baumgartner R, Rothenfusser S, Duewell P, Endres S, Kobold S. A novel TLR7 agonist reverses NK cell anergy and cures RMA-S lymphoma-bearing mice. Oncoimmunology, 2016.
Abstract